I love deep fried spring rolls/popiah. I am not a big fan of  the wet version of popiah, popular among food lovers. I prefer mine to be brown, hard, oily and crunchy 
I will always go for fried popiah if I see it is on sale, it is one of my favourite side dish.
I got the chance to make my own fried popiah just now. This is my first time making my own popiah, and with limited ingredients I had (I was lazy to shop for ingredients normally used to make popiah filling – shrimps, long bean, carrot, turnips, taugeh, bamboo shoots chinese sausage bla bla…) I just used whatever available in the fridge, since I was hungry and in the mood to chew on something..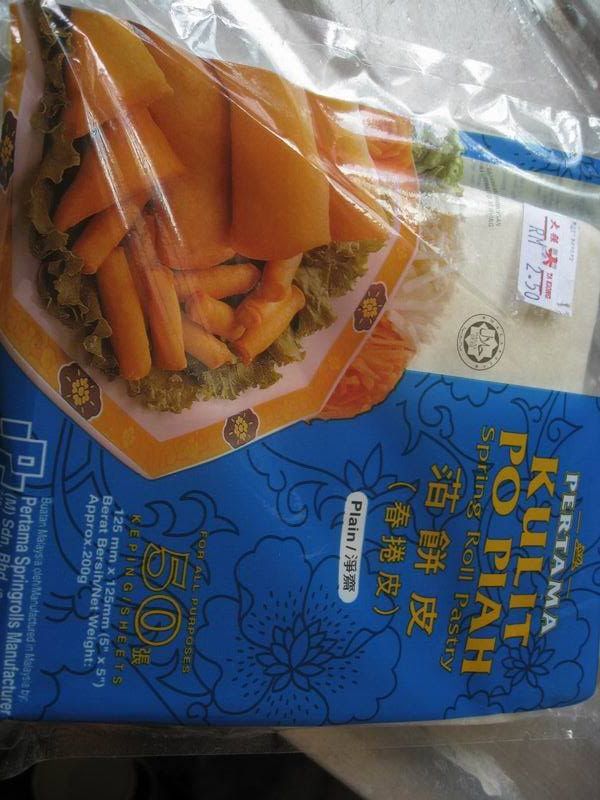 Bought this popiah skin/wrappers for a while already, it's time to put it to use. Get it from your nearest cold storage market.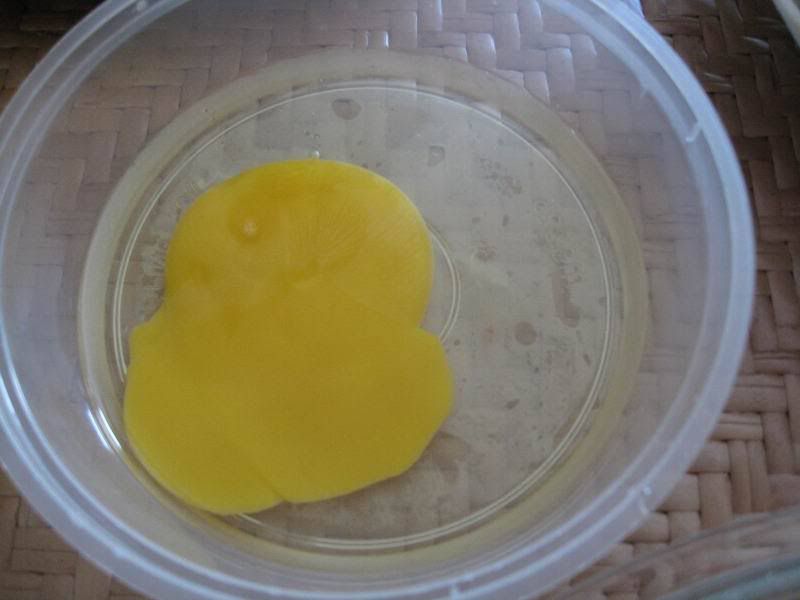 I use egg white as sealing paste. Er, lazy to remove the egg yolk. Later still can fry it to eat hehe.. You can use corn starch mix with water as sealing paste as well 🙂
Filling – stir fried minced chicken, chopped cabbage, shallots, garlics, mushroom, season with salt, oyster sauce and pepper to taste. Free to make whatever filling you want, be creative!! Just don't fill it with nothing. (Yes I ate fried popiah with nothing or probably just 2 taugehs in it before. WTF! 40 sen each neh! The idiot maybe just rolled the popiah wrappers to maximise profit and gullible, dumb customers like me bought it)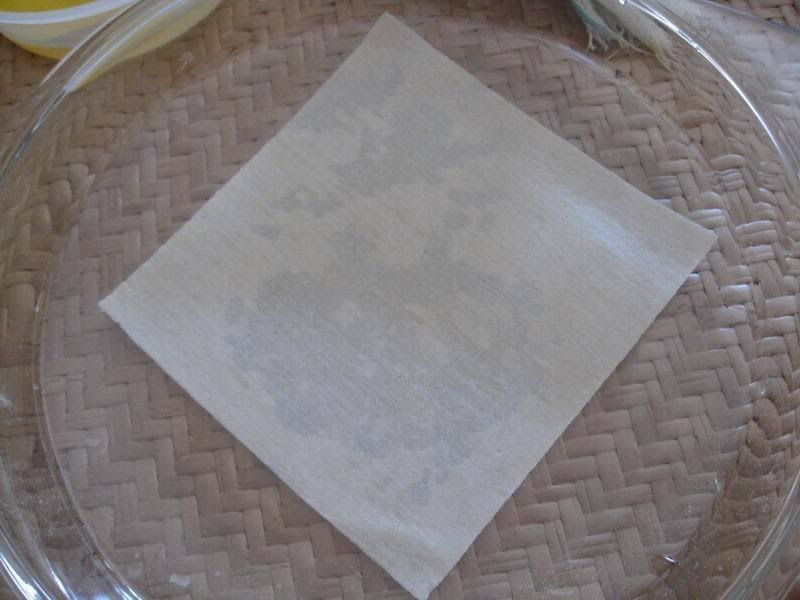 Lay a wrapper on a clean plate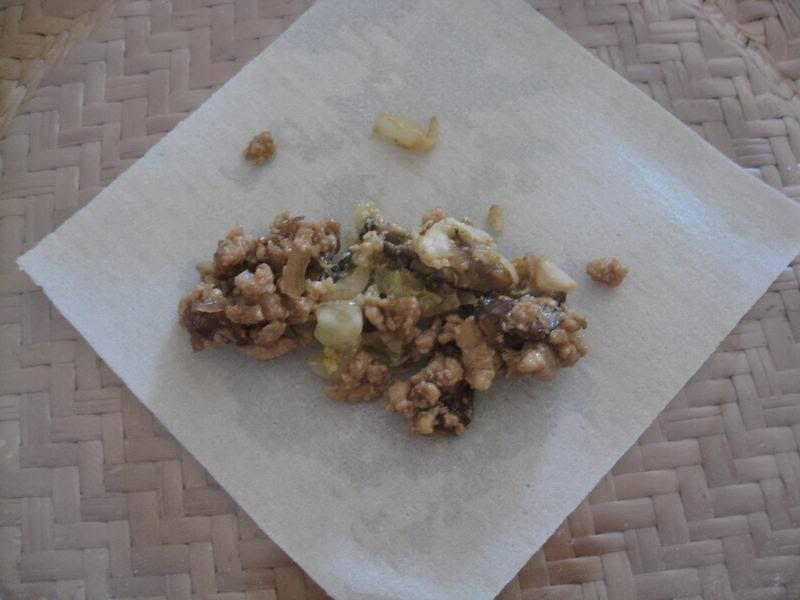 Put some filling in the middle. Make neat of the filling, above photo is to show you an example of the wrong way to put it – messy haha!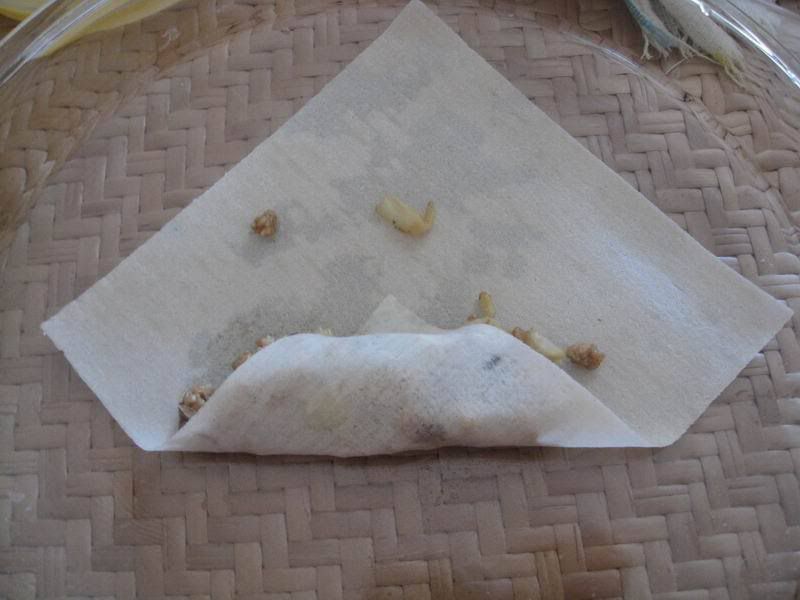 Fold it over, keep all the filling neatly inside, not like what I did above 😛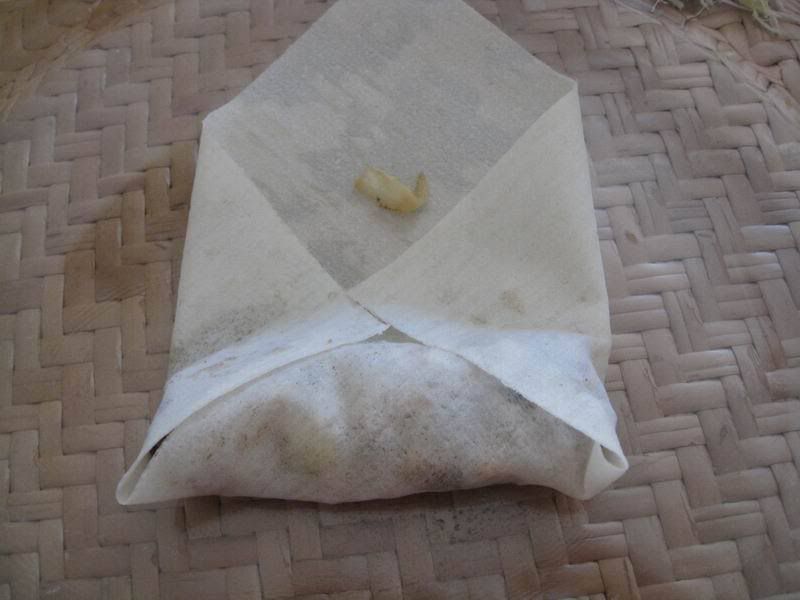 Wrap both sides of the wrapper..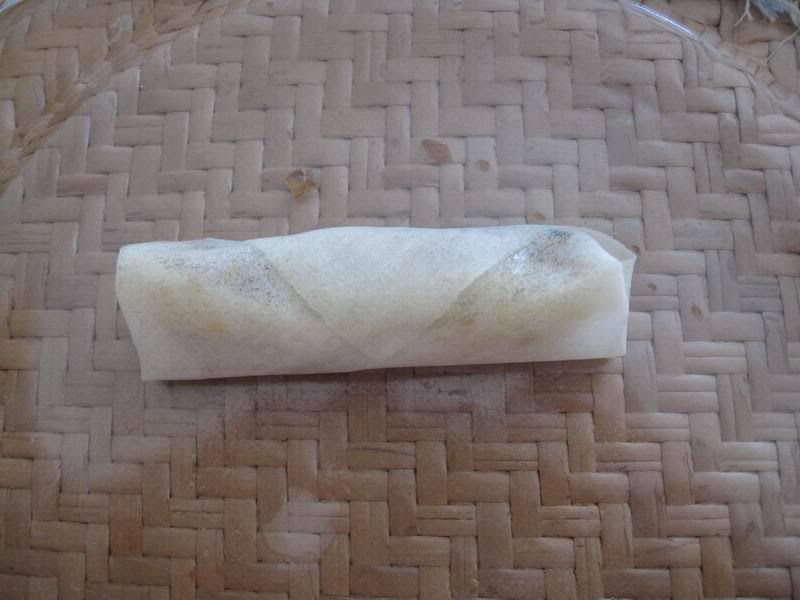 Roll up the wrapper tightly. Seal with the egg white paste. You can use corn starch paste as well.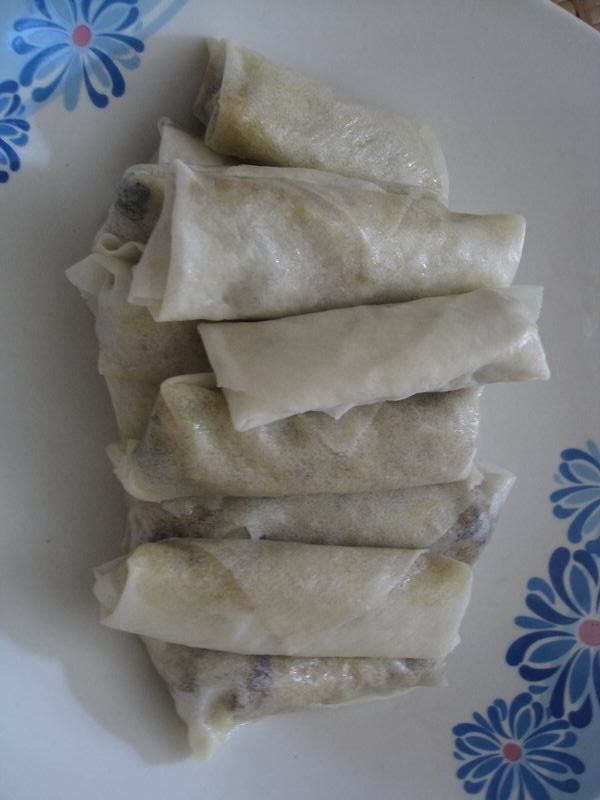 Ta daa! Nicely Wrapped up popiah, ready to fry!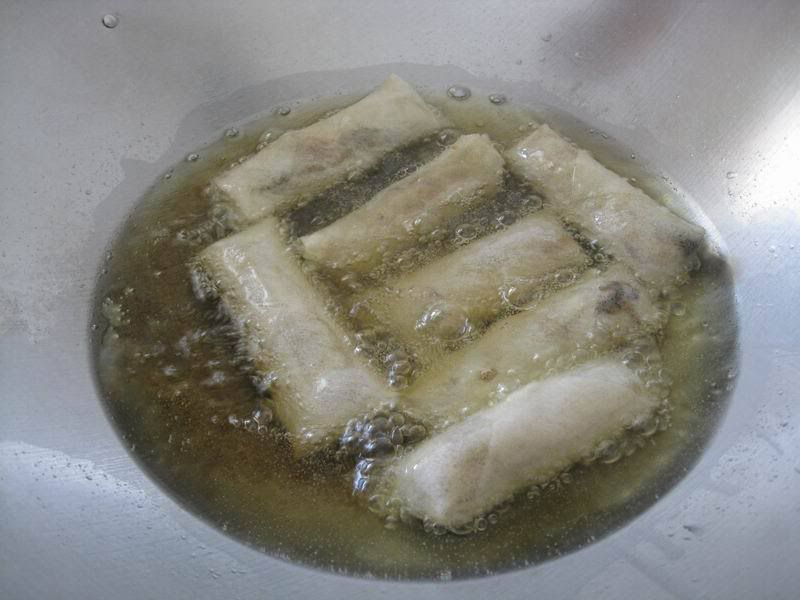 Deep dry over medium heat until golden brown.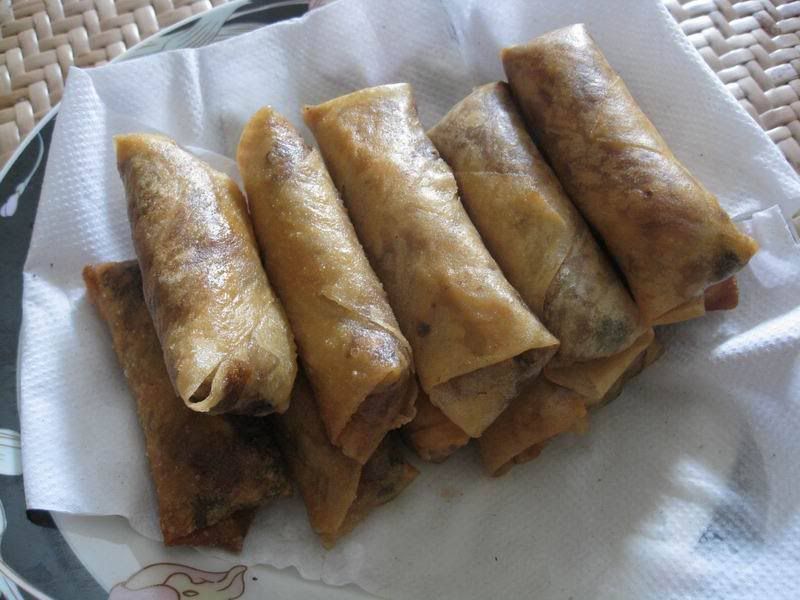 Drain it on paper towel. Arrange nicely and it's serve while hot! (Put the slightly burnt ones hidden below. :D)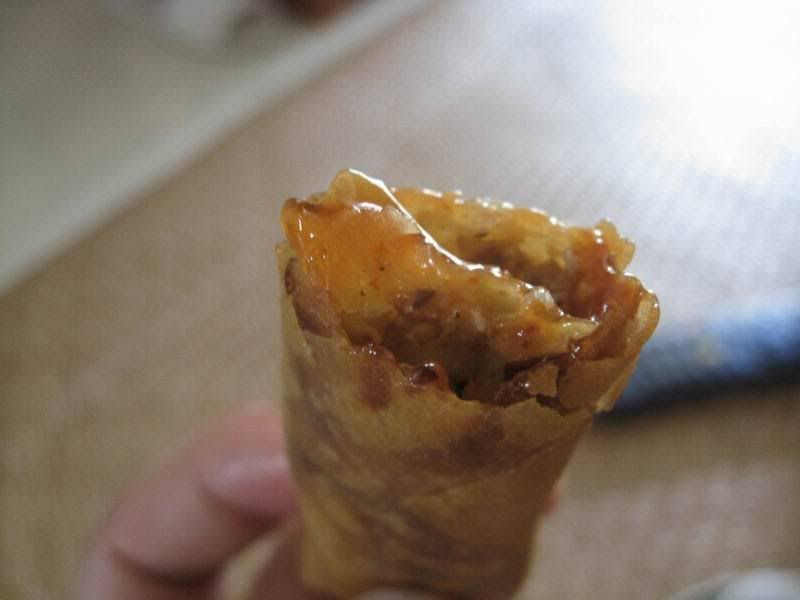 Crunchy!!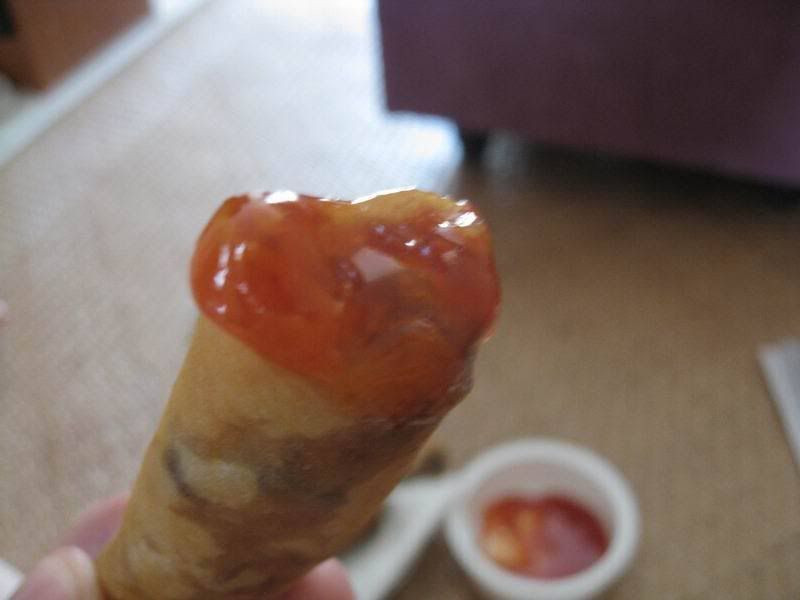 Eat with chili sauce!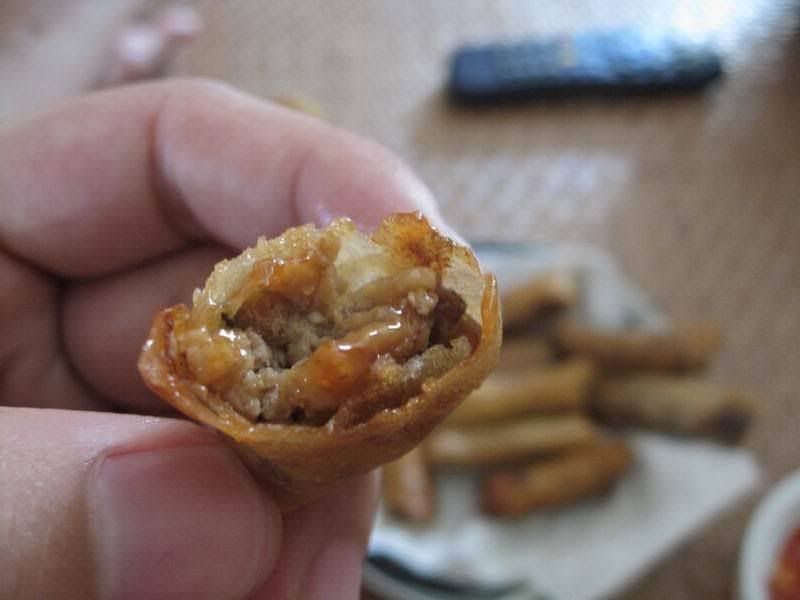 Aiyak! Should put some green, red, yellow filling vege next time to make it look colourful and nicer. Corn, carrot, lettuce 😀 But, since it's only for myself to stuff on, no need so presentable lah eh?
That's it. Now go and make your own fried popiah! Stay tune for more recipes 😛 (I actually made tang yuen – glutinous/sticky rice balls on last Lantern Festival/Dong Zhi/Winter Solstice day, served with bubur Cha Cha sweet dessert but I didn't post it up haha!)
The only photo I took during that time 😛 I still owe Lola the recipe for Ang Chew (Red Wine) Mee Sua hehe.. Sorry Lola, will do it when I got time 😛
Tags: Food, Fried Popiah, Kuih, Personal, Recipe, Side dish, Spring Rolls