October 23rd, 2008 | by bongkersz | Posted in »
Current Affairs
,
Mainstream Media
,
Malaysia
,
Malaysiakini
,
Personal
,
Personalities
,
Photos
,
Serious
,
Social Issues
| 3,328 views
Dear Pak Lah,
How are you? I hope you are busy making plans for your promised 'missions' that you set to 'see through' before you step down as Prime Minister. I have faith in you to carry out your missions in the next 5 months (time is ticking fast, you still have 4 months+ now), although in the span of 5 years you are in power you have failed forgotten to 'see through' the reforms you promised when you took over this country from the old man. 
Few months after you came into power, you did give Malaysians a new hope with your anti corruption policies. You promised to clamp down on corruption, thus empowering corruption agencies and providing more avenues for the public to expose corrupt practices. You opened investigations against several prominent figures from the old man's era, arrested some ministers and all look pretty good but as Malays proverb says 'Ku sangka panas sampai ke petang, rupanya hujan di tengahari.' (I thought of using another proverb 'Hangat hangat tahi ayam' to describe your efforts in combating corruption but I am afraid you may be offended by the word 'tahi'.)
Nevermind, what I am trying to say is, after few early convincing efforts and hopeful starts, it fizzles. Your administrations' efforts to fight corruption then became less transparent. It was noted by the Economist that little progress has been made on curbing corruption, I quote:
However, hanging over Mr Badawi is his failure to keep his promise to curb official corruption. Two surveys out this month suggest that little progress is being made on this front. Worse, some big sleaze scandals have broken, suggesting that the rot reaches close to the top.

The man who is supposed to lead the clean-up, Zulkipli Mat Noor, the head of the country's Anti-Corruption Agency (ACA), has himself been accused of illicit enrichment by a former underling. In a separate case, a deputy police minister is accused of taking bribes to set criminal suspects free. Mr Badawi has rejected calls to suspend the two officials while the allegations, which both deny, are investigated.
Apart from the 5 big missions you intended to 'see through' before you step down in March, may I bring it to your attention of your another often repeated promise – to improve the public transportation system. Remember this?
PM: We have to sacrifice
(The Star), 1 March 2006

KUALA LUMPUR: The estimated annual saving of RM4.4bil in fuel subsidy will be spent to improve the public transport system, Datuk Seri Abdullah Ahmad Badawi said.
It is been a while since you took the LRT and KTM Komuter in August. I was glad when I read that you tried out our 'efficient' public transportation for yourself. Well, I see you were standing quite comfortable in the LRT/KTM, thanks to your bodyguards/Special Branch officers/machais around you.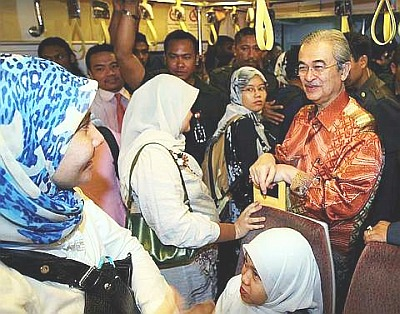 At least you didn't endure what this 'pakcik' went through. I took this photo in the bus yesterday.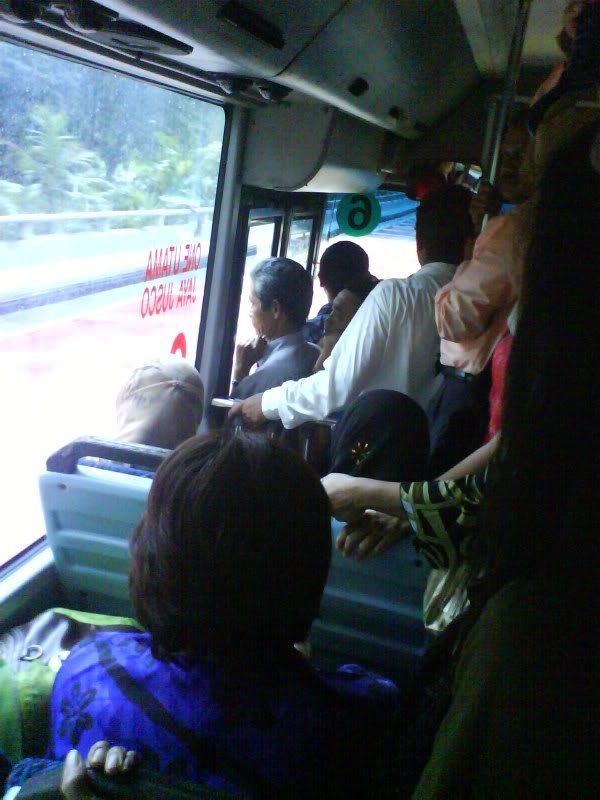 Everybody pressing against each other.. if the guy standing behind you is having a boner… well let's not go there.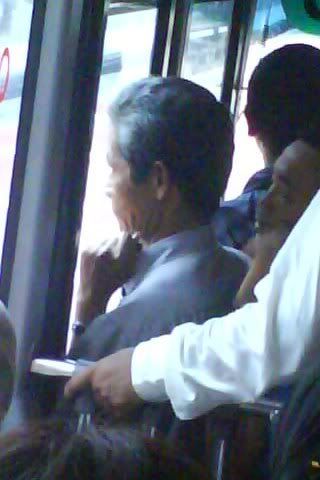 Closer look
To the people looking from outside, probably something like this. (Image source: here)
In your own words, after you experienced for yourself the ride on KTM Komuter and LRT:
"Saya lihat tadi keadaan tren yang digunakan untuk penumpang setiap pagi untuk pergi kerja. Mereka sentiasa berebut-rebut bila tren tiba. Dari segi itu, ialah, nampaknya macam tak ada sistem.

"Yang ini yang saya rasa tak senang hati kerana rakyat tidak mendapat satu kepuasan daripada menggunakan tren. Ini kita kena perbaiki,"
"Saya dapati memang tren-tren ini cukup sesak dengan penumpang, ada yang tunggu sampai tiga tren tak dapat naik, dan ada yang memintas dan mengetepikan orang tua.

"Saya mahu mesti ada perubahan dalam hal ini."

"Banyak lagi pandangan penumpang yang diberi kepada saya untuk diambil perhatian.

"Saya akan usahakan untuk memperbaikinya, saya akan cadangkan perubahan-perubahan." 

"It was something that I had wanted to do for some time. I have been getting complaints that all is not well at LRT and KTM stations. I am fully aware and I want to improve the situation," he said.

(Source: Malaysiakini and The Star)
If you don't mind me asking, what have you done to make our public transportation system more efficient than it is now? What are the plans (if any) to improve the public transportation system? What happened to the plans to extend the LRT network? What happened to our savings from the fuel subsidy?
I understand your are in the process of setting up of a Commission of Land Transportation, which would recommend and formulate ways to improve land transportation, including public buses. (Another commission? Sigh!) Is this going to happen anytime soon? No offence, but you are quite famous for your 'setting up commission' style which seems lacking in firepower, less efficient approach to solve the problems on hand. What happened to the Independent Commision of Police Misconducts and Complaints (IPCMC)? I lost count of how many commissions you already set up since you came to power. I just hope they are going to do a good job making this country a better place to be.
Can you add this small mission to your 5 big missions for you to 'see through' before you step down? Please ensure something is done to improve our public transportation system. I may have few suggestions, but I really do not want to appear like telling you how to do your job, especially when you have all the brightest and smartest talents working for you. Just make good of your promise, please?
I wish you all the best, may God or any superior being out there grant you the best of health and will power to complete your unfinished missions in the coming months.
ps: Help me say hi to Khairy. ManYoo boleh blah lah!
Tags: Abdullah Ahmad Badawi, Corruption, Letter, Malaysia, Missions, Personal, Public Transportation System